Creating spectacular restaurants...
Creating spectacular restaurants is something we really understand at Atzaro. With one of our most recent projects, we created the beautiful outdoor 'Orange Tree' restaurant within the Atzaro Hotel complex.
This space was previously an oriental inspired garden with fountain and pool at its centre and tables around but we decided to open it up, to give the space glamour and client appeal.
With the recent transformation of the Hotel, taking it back to the authentic, to the essence of Ibiza, we decided to bring this natural yet luxurious touch to this space.
The vison was clear from the start, a spectacular giant pergola built around the majestic palm trees, with a rustic terrace beneath and exotic planting all around. The roof of the pergola open, to allow glamourous dining under the stars, with the natural canopy of the palm tree tops above.
This was a big project, as the pond, fountain and existing paving had to be completely excavated, then new ground levels, drainage, natural stone floor, before moving on to have the giant wood pergola constructed to plan. The finishing touches were an open space in the middle, where a large orange tree was planted, so it could grow through and individually designed gold lamps at floor level and hung from the beams. The end result created a glamourous dining space, a beautiful natural garden restaurant, a place to be.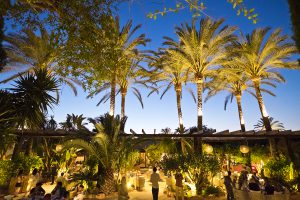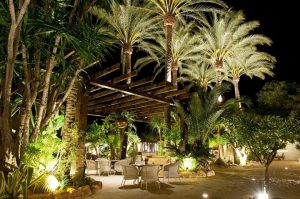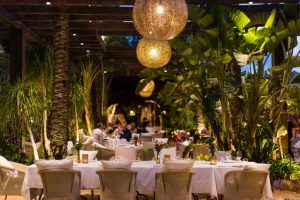 Created for glamourous Atzaro garden dining, the 'Orange Tree' restaurant was made with the Atzaro quality by Atzaro Design. Now, with our unique design services, we can offer business design, concept, build or reform for you too. We understand the magic ingredients and so can share this with you…